At our 2017 East CLT (Chapter Leadership Training) in Huntsville, Alabama, NMA leaders participated in several "group-based discussions" covering several important subjects. We have collected their answers, and posted them here to help assist YOU! Think of it as an NMA "Q and A" session…
Whether you're facing problems in your chapter, or simply looking for some food for thought, this post is a treasure trove of valuable information. We encourage you to join the discussion and post your own answers in the comments box at the bottom of the page.
We would like to thank Candi Creel, CM, 2016 NMA Chairman of the Board, for compiling these responses and submitting them to NMA Headquarters.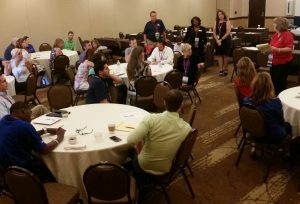 Membership Recruiting and Engagement
Presidents / Vice Presidents
Involvement in annual plans, budget and money request
Execs are willing to get involved – just need to ask
Execs are interested in getting employees engaged with extracurricular activities
Going to them for assistance, asking for help
Have them on board as exec advisor
Ask them to attend board meetings
Collaborate with executives on activities
Collaborate with other groups under guidance of exec
Community and Youth Services