Management / Leadership Week in America
by Michelle R. Lewis, NMA Vice Chairman
Each year the National Management Association (NMA), THE…. Leadership Development Organization extends thanks and appreciation to all our chapters and their members as we celebrate our 39th year of sponsoring Management / Leadership Week in America June 2-9, 2019.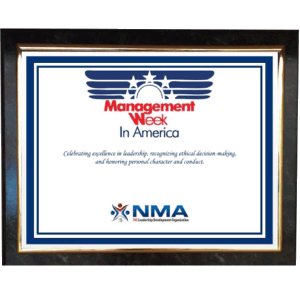 Since its inception in 1978 by NMA, Management / Leadership Week in America has grown in recognition and activities each succeeding year. Annually, numerous governors, mayors, and commissioners ceremoniously proclaim the first full week in June as a special time for people to recognize the profession of management and leadership and to appreciate the contribution and dedication the millions of managers and leaders offer in support of the American Competitive Enterprise System.
During 1982, a Joint Congressional Resolution was signed into law reflecting the dates of the 1983 observance, and President Ronald Reagan issued a proclamation designating the week of June 5-11, 1983, as our very first Management Week in America and he was presented our very first award.
Public recognition of management and leadership as a profession continues to improve the quality of management and leadership; encourages those with management and leadership responsibility to increase their competence; inspires young citizens and educators to become familiar with the benefits quality management and leadership provides to all of society; fosters respect for the management and leadership profession; and creates an understanding of the essential role of management and leadership in increasing productivity and strengthening our economic system. Some chapters may wish to emphasize team building and the organization of self-directed work groups as part of the "management and leadership challenges of today". This, then, can lead to a total team celebration of Management Week.
"If your actions inspire others to dream more, learn more, do more and become more, you are a leader."
— John Quincy Adams