NMA Live Online Recordings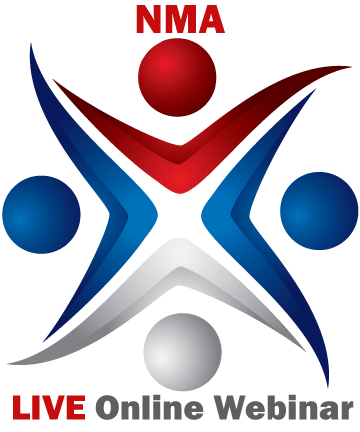 Save the date! A NEW NMA Live Online Webinar airs on the third Thursday of (almost) every month. With your member discount, the cost is only $25.00 (includes multiple connections). Joining us live allows you the opportunity to ask questions, and participate in the discussion following the presentation. Many chapters organize a "lunch and learn" around our webinars! This only requires one login/connection, and provides you an additional opportunity to meet with your chapter each month. Chapters which are not available on third Thursday sometimes organize a "lunch and learn" where they get together to watch a recorded webinar instead.
For your convenience, many of the webinars in our "Live Online" series are recorded and posted on our website. We allow NMA members to access the webinar archive free of charge! Below, you will find over 24 hours of high quality videos covering a wide range of subjects: Emotional Intelligence, Strategic Planning, and everything in between! We trust that you will find this resource a useful one. November's webinar was the last one for 2019. A 2020 schedule will be sent to all chapters; it will also be posted on our website when it is finalized.
Thank you to all our 2019 facilitators and to those who participated. We had a banner year for LiveOnline attendance in 2019!!
Check soon for a listing of the LiveOnline Webinars we will have for February 2020 through December 2020.
2020 Live Online Webinars
Facilitator / Date
Recruit, Retain, Mentor, and Motivate
Watch Recording
Facilitated by Shari Storm
Category 6
March 19, 2020
3 pm Eastern Time
Why Projects Fail: Recovery Tips
Watch Recording
Facilitated by Dave Goodman
SoftAssist
February 20, 2020
12 pm Eastern Time
Resume Writing
Watch Recording
Facilitated by Dee Thomas
January 16, 2020
3 pm Eastern Time
2019 Live Online Webinars
Facilitator / Date
Transformational Leadership
Watch Recording
Facilitated by Mariah S. Manuel-Berry
November 21, 2019
12 pm Eastern Time
Followership
Watch Recording
Facilitated by Wanda L. King
October 24, 2019
12 pm Eastern Time
Social Intelligence… More than Emotional
Watch Recording
Facilitated by Janet A. Ford
September 19, 2019
3 pm Eastern Time
The Art of Meeting Management
Watch Recording
Facilitated by Steve Bailey, CM
August 15, 2019
12 noon Eastern Time
Leadership for the 21st Century
Watch Recording
Facilitated by Misipati "Semi" Bird
May 16, 2019
12 noon Eastern Time
Building Accountable Organizations
Watch Recording
Facilitated by Steve Bailey, CM
April 18, 2019
12 noon Eastern Time
Leading with Candor
Watch Recording
Facilitated by Jodi Wilson, PhD
March 21, 2019
3:00 pm Eastern Time
How to Ramp Up Employee Engagement
Watch Recording
Facilitated by Lisa Ryan
February 21, 2019
3:00 pm Eastern Time
The Personal Path to Success
Watch Recording
Facilitated by Scott Chesnut
January 17, 2019
12:00 pm and 3:00 pm Eastern Time
2018 Live Online Webinars
Facilitator / Date
Managing Relationships and Change
Watch Recording
Facilitated by Tiffany Albert
October 18, 2018
12:00 pm and 3:00 pm Eastern Time
Effective Listening
Watch Recording
Facilitated by Monica Tucker
September 20, 2018
12:00 pm and 3:00 pm Eastern Time
Resume Writing
Watch Recording
Facilitated by Dee Thomas
August 16, 2018
12:00 pm and 3:00 pm Eastern Time
Asking the Right Questions: How to Get the Answers You Need
Watch Recording
Facilitated by Sharon Robertson
July 26, 2018
12:00 pm and 3:00 pm Eastern Time
Giving and Receiving Feedback
Watch Recording
Facilitated by Ryan Murphy and Marie Prestwood
June 21, 2018
12:00 pm and 3:00 pm Eastern Time
The Engaged Leader
Watch Recording
Facilitated by Jodi Wilson
May 17, 2018
12:00 pm Eastern Time
Influence Without Authority
Watch Recording
Facilitated by Terry Burke
April 19, 2018
12:00 pm Eastern Time
How to Leverage NMA PD Products
Watch Recording
Facilitated by Don Hart, CM
March 15, 2018
12:00 pm and 3:00 pm Eastern Time
Influential Leadership
Watch Recording
Facilitated by Mike Logan
February 15, 2018
12:00 pm and 3:00 pm Eastern Time
How to Communicate UP!
Watch Recording
Facilitated by Steve Bailey, CM
January 25, 2018
12:00 pm and 3:00 pm Eastern Time
2017 Live Online Webinars
More Information
Lead, Follow or Get Out of the Way… Your Role in the Leadership Equation
Watch Recording
Facilitated by Lynn Schneider, CM, CPCM
November 16, 2017
12:00 pm and 3:00 pm Eastern Time
The Art of Connection; Leveraging Social Media to Connect with your Chapter, Company, and Community
Watch Recording
Facilitated by Tanaya Lanning
October 19, 2017
12:00 pm and 3:00 pm Eastern Time
Improving Communications in a Busy World
Watch Recording
Facilitated by Reneé Brooks
August 17, 2017
12:00 pm and 3:00 pm Eastern Time
Making Time For Time Management
Watch Recording
Facilitated by Valentine Smith
May 18, 2017
12:00 pm and 3:00 pm Eastern Time
Shape Your Criticism as a Conversation
Watch Recording
Facilitated by Dr. Deborah Bright and Steve Bailey, CM
March 16, 2017
12:00 pm and 3:00 pm Eastern Time
Plan Right: Having a Strategy for your Strategies
Audio
Facilitated by Scott Chesnut
February 16, 2017
12:00 pm Eastern Time
| 2015 Live Online Webinars | Original Air Date |
| --- | --- |
| Navigating the NMA Website (12 pm) | December 17, 2015 |
| Presentation Skills (3 pm) | November 19, 2015 |
| Presentation Skills (12 pm) | November 19, 2015 |
| Business Communications: The Toolbelt for Effective Workplace Communications (3 pm) | October 15, 2015 |
| Business Communications: The Toolbelt for Effective Workplace Communications (12 pm) | October 15, 2015 |
| Making Assumptions (12 pm) | September 17, 2015 |
| Effective Performance Appraisals (12 pm) | August 20, 2015 |
| The Transformational Leader-Manager (12 pm) | July 16, 2015 |
| Dealing With Difficult People | June 18, 2015 |
| Conflict Management (Conflict Resolution) | May 21, 2015 |
| Decision Making and the Art of Negotiation | January 15, 2015 |
| CM Webinar – Accelerating the Leadership Process | January 14, 2015 |