Public recognition of management as a profession through Management Week in America will improve the quality of management; encourage those with management responsibility to increase their competence; inspire young citizens and educators to become familiar with the benefits quality management provides to all of society; foster respect for the management profession; and create an understanding of the essential role of management in increasing productivity.  Some chapters may wish to emphasize team building and the organization of self-directed work groups as part of the "management challenges of today".  They might also want to stress that today; we all "manage" something — our desks, our projects, our time, and/or other people.  This, then, can lead to a total team celebration of Management Week.
Since its inception in 1978 by NMA… THE Leadership Development Organization, Management Week in America has grown in recognition and activities each succeeding year.  Annually, numerous governors, mayors, and commissioners ceremoniously proclaim the first week in June as a special time for people to recognize the profession of management and to appreciate the contribution and dedication that managers offer in all our organizations.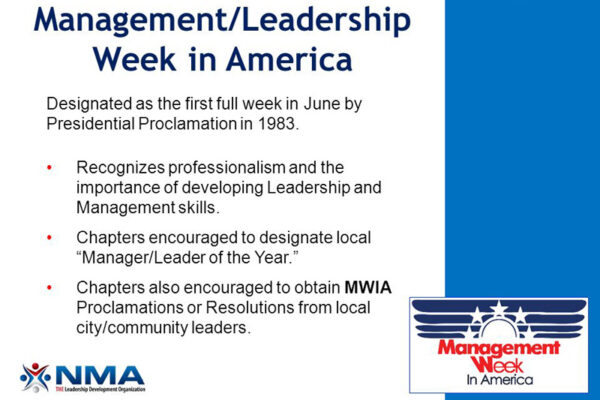 During 1982, a Joint Congressional Resolution was signed into law reflecting the dates of the 1983 observance, and President Ronald Reagan issued a proclamation designating the week of June 5‑11, 1983, as Management Week.  From 1983 until 1993, special nationwide awards ceremonies were held:
The 1984 observance received national visibility through the presentation of the American Manager of the Year Award to President Reagan.  Recognition was extended to the President for his support and approval of bi‑partisan legislation designating Management Week. 
The 1985 and 1986 award recipients were: J. W. Marriott, Jr., President and Chief Executive Officer, The Marriott Corporation and Roger B. Smith, Chairman and Chief Executive Officer of General Motors.
The 1987 and 1988 recipients were Stanley C. Gault, Chairman and Chief Executive Officer of Rubbermaid, Inc., and Kenneth H. Olsen, President, Digital Equipment Company.
In 1989 and 1990, the recipients were Donald E. Petersen, Chairman and Chief Executive Officer, Ford Motor Company, and Dr. P. Roy Vagelos, Chairman, Merck & Co., Inc.
In 1991, the recipient was John F. Welch, Jr., Chairman and Chief Executive Officer, General Electric Company.
In 1992, Allen F. Jacobson, Immediate Past Chairman of the Board and CEO, 3M Company accepted the award.  (The presentation of the National Management Week in America American Manager of the Year award was discontinued after 1992.)
The Management Week co-sponsors presented the award to "an executive whose leadership, integrity and management skills profoundly, visibly and favorably influenced the outstanding performance of a key element of American business, industry, governmental or nonprofit activity such as to set the person apart among contemporaries."  Its presentation did much to "launch" Management Week as a nationwide observance.
The non‑profit NMA… THE Leadership Development Organization originated in 1925 at the inspiration of Charles F. Kettering, a great inventor who influenced today's Association philosophy:  There is no substitute for attaining the highest level of professionalism in each of the many fields of management.  That is why, for example, NMA has developed and made available to its members and non members hundreds of hours of management course study and awards outstanding achievers‑‑including non‑members.
Management Week in America is celebrated during the first full week of June each year.