Foundations of Management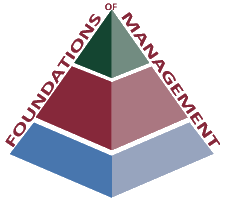 — A refreshingly new look at the essential knowledge and tools for today's managers, supervisors and leaders.
Whether you're new to supervision or an experienced manager, now is the time to participate in this exciting new program – one that shines a contemporary light on the fundamentals of working in teams, motivating others, and solving problems while making ethical decisions.  Changing technology, the virtual environment, and global teaming present new challenges AND opportunities for business and industry.  Organizations that adapt and change while driving home the fundamentals of management will grow and thrive to create greater enterprise value.
Foundations of Management is all about understanding the competencies and attributes of a well-rounded manager and leader.  It's about preparedness.  It's about being ready for the challenges, changes … and the contemporary application of management principles …that continually drive and define success in today's workplace.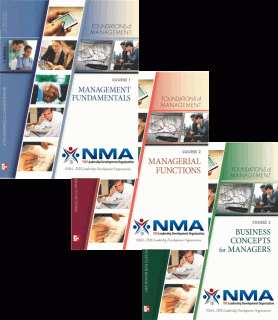 What's Behind This Course?
This exciting new NMA program is the result of a comprehensive Job Task Analysis study (commissioned by ICPM, The Institute of Certified Professional Managers at James Madison University).  The study identified the knowledge, skills and abilities that new supervisors and experienced managers need to succeed in today's workplace.
It's no secret that the work world continues to change at an incredible pace.  Studies prove that individual and team performance drive results. Today's managers are part of an integrated and highly functioning team…and they simply have to be good leaders as well. Managers need skills to plan, organize, direct, and control the work of others.  Leaders need skills to create a vision and impassion employees to work together to achieve that vision.  This course focuses on building that firm foundation to develop the skill sets needed for effective managers and leaders.
The Foundations of Management (FoM) program comprises between 28 and 42 hours of learning and includes 3 custom-published study manuals (in print or eBook format).  Recommended "classroom time" is 2-3 hours for each of the 14 chapters comprising the entire program.  A Leader Guide with instructional materials, quizzes, and PPT presentations is available to facilitators for leading group discussion sessions.
Participants who successfully complete all three courses (per their course facilitator) will receive an NMA certificate of completion to document their achievement.
3 courses, 14 chapters total:
Course 1 – MANAGEMENT FUNDAMENTALS (FOM001 / 0.8CEU)
Course 2 – MANAGERIAL FUNCTIONS (FOM002 / 0.6CEU)
Course 3 – BUSINESS CONCEPTS FOR MANAGERS (FOM003 / 0.8CEU)
To see all 3 complete course outlines click here: Outline – Foundations of Management
Each of the three FoM courses is value priced at $79 per softbound book or eBook.  ($99 for non-NMA Members.)  You may purchase 1, 2, or all 3 courses as you wish.  Leader guides, complete with PowerPoint presentations on a CD, participant quizzes, and extensive facilitator/instructor materials are available for only $99 for each course!! ($125 for non-NMA members)
To order Foundations of Management, contact NMA at 937-294-0421!
---
See what Michael Williams (Chapter President, LMLA Chapter 249) has to say about NMA's newest program!
"I wanted to express why it was that I found it important to sign up and take the Foundations of Management classes. As President of LMLA Chapter 249 I felt that I needed to lead by example so I decided to personally experience what the FOM training entailed. When I complete this training and go about promoting it to others, I want to be able to honestly answer the "What can it do for me?" and "What's in it for me?" questions. I felt it would also be a great way to follow up on an action from our Roadshow with Orlando Carvalho. (LMLA finding ways to become more inclusive to the represented workforce) If Lockheed Martin's Executive leadership is willing to explore funding this training for the Hourly represented workforce to attend, then I feel it is my duty to show a genuine interest. So what better way to do that than to sign up and take the training?  For me it's a Win/Win… Investing in myself and investing in other people. I sincerely feel that it would go a long way in inspiring participation from Lockheed Martin's Hourly employees as well as our Chapter members."