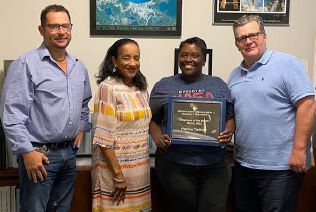 Patrice Tolliver was recognized for her efforts in the first quarter of 2022 in support of TPP products and services.She is pictured from left to right with Jeff Pilet, Antoinette Verrett, herself, and Mike McBain.
Her skills and attention to detail in the Thermal Protection Program Coatings area have been outstanding and have not only ensured orders are processed on schedule but to a high standard. She has caught and remedied several quality escapes which could have led to customer satisfaction and mission success issues. Patrice has also provided outstanding support to the TPP PAC-3 Fin Manufacturing Team which delivered 155 fins on or ahead of schedule with no defects. She always goes above and beyond to accomplish her job assignments by working meticulously to ensure shipments meet schedule.
Patrice is a member of the Lockheed Martin SSC-LA Greater New Orleans Chapter, #555.
For 40 years, Lockheed Martin Space Systems Company operated at the Michoud Assembly Facility (MAF) under the Space Shuttle program with NASA. Under the Orion MPCV program, Lockheed Martin manufactures the vehicle's structure at Michoud. Lockheed Martin has delivered two capsules. The Orion Team at Michoud Assembly Facility in New Orleans, LA embark on the final welds of Orion EM-1.es to NASA, the first was a test article and the second flew on NASA's Exploration Flight Test One in December 2014.