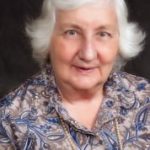 After she suffered an accident in a parking lot a few years ago, NMA staff became very concerned when we didn't hear from member Avis French for a few months. After all, French was a very active member attending webinars, serving on committees, and as an Associate Director.
It turns out Avis is just as much of a fighter at 87 years old as she was during her fascinating and active life. In fact, if you tune in early to NMA's monthly webinar, Avis is usually entertaining the group with stories about going on a boat trip with John Wayne or getting birthday cards from Queen Elizabeth II with whom she shares a birthday. Yes – THAT Queen Elizabeth!
Today, Avis is an active member of the Individual Member Leadership Association, a new chapter designed specifically for NMA members who are not members of company-sponsored chapters.
After graduating from high school in 1954, Avis worked as a stenographer and then joined Honeywell. She moved to California in 1967 and graduated in 1973 with a major in English and a minor in computer programming from Cal State Fullerton.
After accepting a position with Burroughs in 1974, she joined NMA and the Toastmasters in 1983 – and is still an active member of both organizations.
Through various mergers, she ultimately became a Technical Writer for Unisys where she retired as Coordinator for the company's Business Education Partnership in Mission Viejo, CA.
"I have long said that, without the training from NMA and the speaking experiences of Toastmasters, I would never have had the career that I had working for a salary and the public contributions I have been able to give to my community, some of which I still continue today after 40 years," French said.  "Just ask NMA, the Red Cross, or Founders District of Toastmasters what I have been able to give to their organizations. I am proud and pleased to continue to do so."
In 1995, Avis was NMA's Member of the Year.
"The most memorable event without a doubt was being named as NMA Member of the Year in 1995," she said. "I had never received an award of any kind, and to be presented with this award was overwhelming.  The accolades that were paid to me that week still resound in my mind."
Avis believes strongly that NMA membership can be beneficial to both members and the companies they work for.
"NMA enables employees to be better employees," she said. "NMA members have an understanding about leadership, what it means, how to be a successful  leader to both peers and the company. They know how to work well with others, they understand the  relationship of the company, employees, and the community."