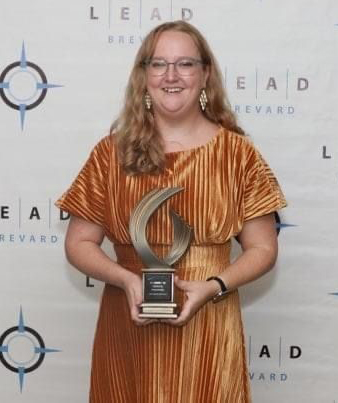 Congratulations to Chelsea Partridge who received the 2022 Lead Brevard (County) Leadership 4 Under 40 Award. Partridge is an NMA member and President of Chapter 546, the Lockheed Martin SSC Leadership Association at Cape Canaveral Air Force Base in Florida.
According to Lead Brevard, the 4 Under 40 goes to four individuals under 40 years of age in Brevard County who make a significant positive impact in the county with their commitment to the community through their personal and professional leadership.
Partridge is an Orion production process verification lead at Lockheed Martin. She says she fell in love with the Brevard area as a teenager.
"I thought this was the most beautiful place in the world and where I wanted to be," said Partridge.
She continued "In 10 years, I envision an Indian River Lagoon that is healing, I envision an agriculture industry that is being maintained instead of lost, and I envision a Brevard County that is more sustainable and practicing conservation practices both with our land owners and the agriculture industry and even people at home – people all over Brevard will know how to practice conservation to help our lagoon."
Congratulations again Chelsea! Your NMA colleagues are proud of your accomplishments!